Firm News
Effective May 21, 2018 Our Shreveport Office is Relocating
On May 17, 2018, we are moving. We will be closed for the move from May 17 through May 20. Beginning May 21, 2018, we will be located in Beaird Tower. We are looking forward to the move, and are happy to have had an occasion to clear out some of the dust that had piled up around us in the prior 28 years.
Our phone numbers and our P.O. Box mailing address are not changing, but to reach us in person or by overnight delivery after May 21, please use the following new address:
Wiener, Weiss & Madison, APC
330 Marshall Street, Suite 1000
Shreveport, LA 71101
---
Bill Peatross Joins Firm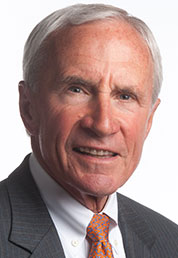 Bill Peatross has joined the firm of Wiener, Weiss and Madison. Bill specializes in real estate law and brings over four decades of experience in that area to the firm. He represents lenders and commercial and residential real estate developers. Bill is a Fellow in the American College of Mortgage Attorneys.
Bill has served as Chairman of the Economic Development Corporation for the State of Louisiana, President of the Shreveport Chamber of Commerce, Chairman of the Community Foundation for Shreveport/Bossier and has been named Shreveport's Business Leader of the Year.
"Bill has represented clients in many significant real estate transactions throughout the state of Louisiana," said Allen P. Jones, President of Wiener, Weiss & Madison. "The breadth of his experience strengthens our firm's real estate practice, and will be of tremendous value to our clients."