Firm News
Bill Peatross Joins Firm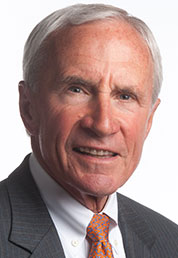 Bill Peatross has joined the firm of Wiener, Weiss and Madison. Bill specializes in real estate law and brings over four decades of experience in that area to the firm. He represents lenders and commercial and residential real estate developers. Bill is a Fellow in the American College of Mortgage Attorneys.
Bill has served as Chairman of the Economic Development Corporation for the State of Louisiana, President of the Shreveport Chamber of Commerce, Chairman of the Community Foundation for Shreveport/Bossier and has been named Shreveport's Business Leader of the Year.
"Bill has represented clients in many significant real estate transactions throughout the state of Louisiana," said Allen P. Jones, President of Wiener, Weiss & Madison. "The breadth of his experience strengthens our firm's real estate practice, and will be of tremendous value to our clients."